---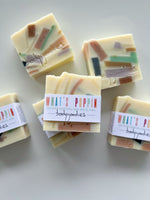 WHATS POPPIN
bodygoodies
3.5-4.5 oz
the whats poppin bars are a new thing around here, and we are pretty excited about them for a few reasons. theyre pretty fun bars, and when we first posted about them everyone was reminded of 80s pop culture, so we decided to name them whats poppin, especially because they are ever changing. these bars will never be the same!
kinda like our kitchen sink soaps - but better. they dont take insane amounts of time or effort to make, we simply use the bits and pieces from all of the most recent cut batches that would otherwise become scraps or samples, and we turn them into these super fun bars by mixing them into a base of new soap using up whatever essential oils we have a surplus of at the time! so, aside from interesting, fun and ever changing, theyre also zero waste, which we really, really love.
individual ingredient lists would be too much. too often, too difficult as there are an average of 10 different sorts of soap in each batch, every time, so the ingredients are always made with our incredible base of vegetable and plant oils, butters, essential oils and natural colorants. batches may contain exfoliants from time to time, perhaps some flower petals, oats and other random botanicals here and there. 
hope you enjoy these as much as we do!